2022 NSB Jazz Festival Merchandise
The festival poster"Jazzin' Time" was created by artist
Steve Hardock of New Smyrna Beach
Steven Hardock is originally from Pottsville, Pennsylvania but has live in New Smyrna Beach for almost 60 years. He is married with 3 children and is presently an elementary art teacher at both Coronado Beach and Chisholm elementary schools. He is also an artist for the Hamilton Collection and Bradford Exchange with over 30 plates, sculptures and other collectibles to his name.
Steven works in several mediums including oils, acrylics, watercolors and pastels with a subject area consisting of wildlife, local scenes (both nature and historical), murals and portraiture. He exhibits at most local art shows and is a signature member of the Florida Watercolor Society, Artist Workshop and has served for several years on the Volusia County Cultural Arts Committee.
Info sourced from the Hub on Canal
Merchandise is still available at Janie's Boutique, 307 Flagler Ave. through Wednesday
T-shirts ( all sizes ), hats, visors, posters
T-Shirts on sale at Janie's (307 Flagler Ave., Suite 102) and The Galley (417 Canal Street)
---
Crew Neck Only, Mens Sizing: S / M / L / XL: $20 XXL: $22 XXXL: $25
---
Posters, Hats & Visors are available exclusively at Janie's (307 Flagler Ave., Suite 102)
---
Information Poster: $5
---
Suitable for framing: $10
---
Signed by the artist: $20
---
Hats: $20
---
Visors: $15
---
Ride Share Drop Off: Flagler Avenue, Southeast corner of Cooper and Flagler
Park at city lot, NW corner of US1 and Canal St.  then Uber or Taxi over to the beachside. On your return at night, checkout the downtown venues.
2019 NSB Jazz Festival Merchandise
The 2019 festival artwork "Sun Surf and Song" was created by artist Heather Pastor
2019 NSB Jazz Festival T-Shirts
Merchandise now available at
REDUCED PRICES!
Vintage T-shirts from 2018 & 2019 $ 5 each various sizes, 2019 we have crew and womens V-neck available
Merchandise on sale at the Friday Kick-off concert @ Marine Discovery Center, also now thru Saturday at Janie's Boutique, 307 Flagler Avenue.
*Cash or Check only
No merchandise booth this year at the corner of Flagler and Cooper during the festival..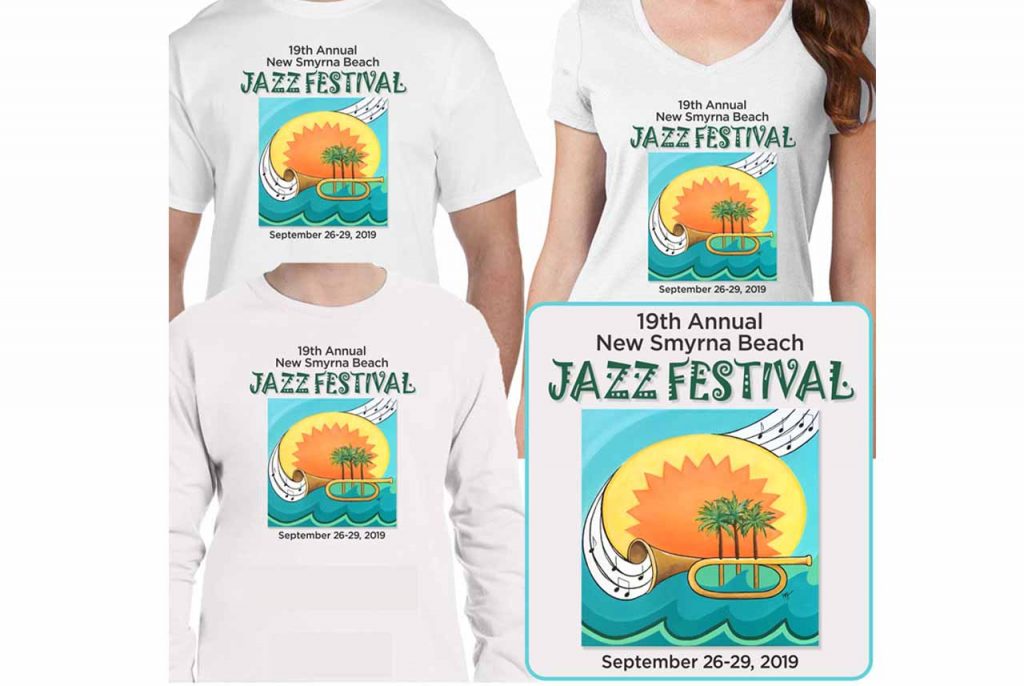 2018 & 2019 T-Shirts - All Sizes and Styles $5
2018 NSB Jazz Festival Vintage T-Shirts